Etiquettes in coworking spaces


Avoid making noise
Every shared space has different noise rules. Co-worker's should be aware of the fact that It's important for one to take calls outside or at least have an etiquette to speak in a low voice or if possible whisper. In coworking spaces, we need to be aware of these etiquettes.
Avoid being fussy
It is important to be independent while working in a coworking space. There are a few people who make a huge fuss about not able to find extra space for their bags in the lockers. This is when they have already put so much useless stuff in their lockers. Generally, people forget basic etiquettes when working with other people. Shared spaces are not service centres. Other people come here to work. You should only ask others when you are not able to find solutions to the problems yourself.
Don't eat other's personal food
Generally, co-worker's think that they can consume anything which is kept in refrigerators. No, it's not like that. Most of the coworking spaces have separate refrigerators one where people can purchase food/drinks and other where people can keep their personal food/drinks. It's better to know the difference.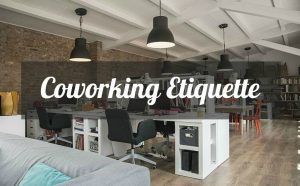 Don't occupy four seats if you have paid rent for only two
Shared spaces charges per seat. If you have paid the rent for one seat, then you should occupy only one seat. But the fact is that most people keep their bags at one seat and their laptops at another seat. Co-worker's should not do this. One should have the etiquette to follow the guidelines and be seated on the same seat that they have rented out.
Follow the timings of coworking space
Following the timings in every coworking space is a must. Coworking offices have 24-hour access while some have 8-12-hour access. People should follow offices timings and choose a coworking space which is according to their convenience (time-wise).
Keep the cafeteria clean
A cafeteria is a place where people have their meals and relax while drinking tea/coffee. Every co-worker should keep the cafeteria as clean as possible to provide comfort to others. They should clean the tables after having their meals and arrange the tables/chairs back to their original place.
Keep the desk clean and organized
Its important factor in coworking spaces to keep your desk clean and organized as it may affect the co-worker's in your premises. Every day when you leave the office make sure all the things on your desk are kept organised.
Visit in person
Its rude to callout or shout your co-workers who is at the other desk or cabin, avoid doing this and visit him personally. Get up and take a short walk to connect with the person.
Knock before speaking
Prevent yourself from surprising the person as he may be involved in a deep thought. Sometimes a co-worker will be in a conversation or meeting, a knock may suffice for further conversation with you.
Keep your habits toned down
Tapping a foot, Pen or finger might disturb others, hence keep these habits to minimal. It may help you concentrate but distract or irritate others.
Keep your germs at home
If your feeling sick and have a contagious sickness, then avoid coming to co-work spaces as it might affect co-worker's and avoid being cursed by them.